Fuzz King '62 Deluxe Fuzz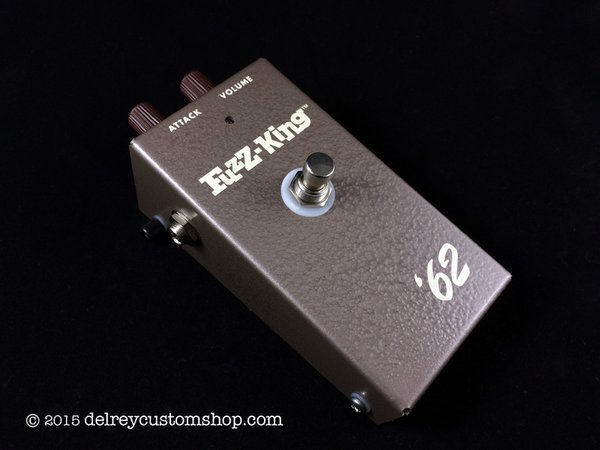 Fuzz King '62 Deluxe Fuzz
The infamous build, now with 9V battery, adapter with LED
Here I have one of my hand built in the Custom Shop tributes to the rarest and most infamous of all fuzzes, the original fuzz, Maestro FZ-1. I have built in some improvements to the original circuit, including, true bypass and greater circuit stability. Now you can have the tone of the fuzz pedal that started it all and use it in your 9v daisy chain too. The Fuzz King works great for Bass too, as seen in the following clips.
I have matched 3 correct spec Tungsram Germanium transistors for optimal sound. These transistors work beautifully in this circuit and aren't as fussy about temperatures as contemporary USA made Germaniums. The sound is nasty, classic and raucous, and will flashback the famous Satisfaction riff and more. This unit is painted in attractive brown hammerite, sure to make your rig more interesting, and you'll certainly get a few raised eyebrows.
How does the Fuzz King 62 compare to the Fuzz King 65?
Some component differences make this fuzz more full EQ sounding. The 65 is a more trebly sounding.
This is where it all started. Try something different. And don't hesitate to contact me should you have any questions!